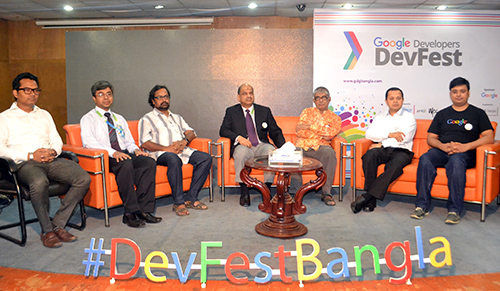 Guests at the inaugural ceremony of Google Developers Festival 2015 (DevFest 2015) held at Daffodil International University
Google Developers Festival 2015 (DevFest 2015) held today on October 23, 2015 at Daffodil International University Auditorium. The program was Sponsored by Google and jointly organized by Google Developers Group (GDG) Bangla and Daffodil International University (DIU). Mr. Md. Sabur Khan, Chairman, Board of Trustees, Daffodil International University presided over the inaugural ceremony of the Fest. Country's renowned ICT personalities and Former President of Bangladesh Computer Samity Mr. Mustafa Jobbar was present as the chief guest at the inaugural ceremony. Prof. Dr. Yousuf M. Islam, Vice Chancellor,DIU, Khan Md. Anawarus Salam, Country's Engineering Consultant of Google, Pallab Mohaimen, Deputy Feature Head of Prothom AloProf. Dr. Syed Akter Hossain, President Organizing Committee of DevFest, Shafiul Alam, Founder & CEO of Be Lancer were present as the special guests. In the program, Salman Abir –a student of Daffodil International University was awarded prizes for his best performance in " Banglar Jonno Char Lakh" a word adding for Google competition held in observance of Independent Day.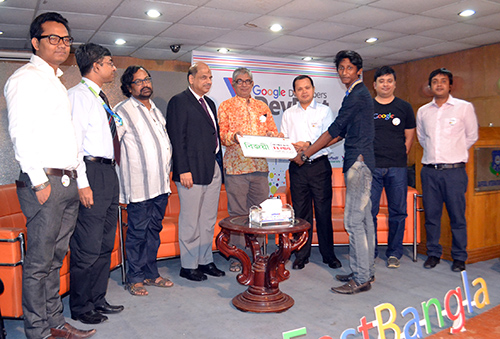 Countries renowned ICT personality Mustafa Jobbar handing over the winning prize to DIU student Salman Abir- the winner of "Banglar Jonno Char Lakh" a competition of Bangla word addition in Google held on Independence day. Mr. Md. Sabur Khan, Chairman, Board of Trustees and Prof. Dr. Yousuf M. Islam, Vice Chancellor of Daffodil International University are seen in the picture
While addressing the inaugural ceremony Mustafa Jobbar said, there is not enough data for Google in Bengali, so young developers should be encouraged to come forward to enrich it. If we could enrich the data in Bengali, then Google would come forward and highly accept Bengali Language. He urged the young developers to come forward to develop quality apps, not quantity apps. He also said, in Bangladesh, there is immense opportunity to work with Bengali Language rather than any other sector. He mentioned that there are not sufficient contents in Bengali Language for higher education, to meet this demand he urged the young developers to come forward.
In his presidential address, Mr. Md. Sabur Khan said, it is important to develop and grow professional attitude among the developers, otherwise ICT sector of Bangladesh would not be able to make significant success in coming days. He stressed on the need of adequate patience and deep concentration of the developers to a particular specific field. By organizing such type of events, some new products will be come out, he added.
Two special session on " Bangla Computing " and "We are the Bangladesh" were held participated by the developers who work for the development of ICT sector of Bangladesh. The day long festival included technical sessions, material design at Code Lab, Basic idea on Androyed develop, App design, App hosting and promotion. Beside these, Design Sprint, Roboot exhibition controlled by Androyed, Google Map and Google Translation were also included in the festival.
Later a cultural program was performed by Menar. The program was associated by Online Market Place –Be Lancer, Rokomary. Com, mcc Limited and BDOSN.